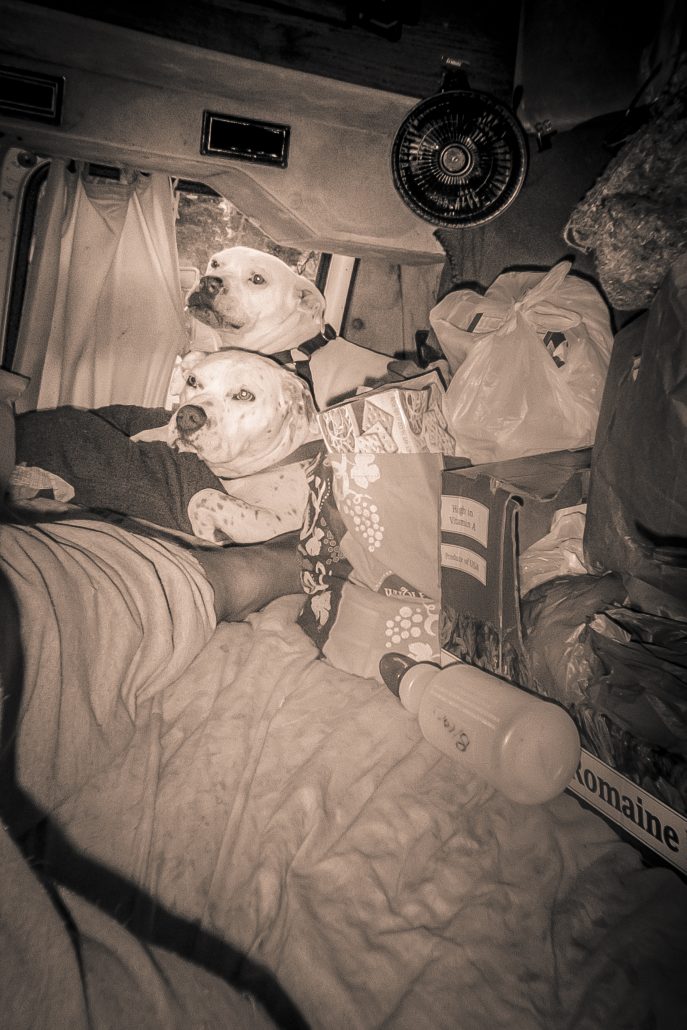 Traveling Exhibit Photograph #12 – Deidre
It's sad how cold people are toward homelessness.
Deidre had a job and a place to call her own for more than four years.
When she suffered a devastating miscarriage, Deidre became depressed and lost her job. With nowhere to go, she couch-surfed at different places, before ending up with her mother. However, her mother lost her place, which put Deidre on the street again with her mom and their 3 dogs.
Deidre has looked for a job, finding some work through temporary agencies. She slept in a tent under bridges because she could not afford a place to stay.
Deidre took photos of herself holding signs with bible verses, of the tight quarters in the van and of her dogs, which provide comfort. To make extra space inside the van, the family ties items to the back of the van. However, every time the family has to move, the items have to be taken off and re-stored inside of the compacted space.
"It's not easy living this way…I want people to be aware of what's going on and see it's a problem and an issue in this country," said Deidre.  Deidre hopes her photos help bring awareness to the homeless epidemic.
"No one should have to live on the streets," said Deidre. "It's sad how cold people are toward homelessness."
Deidre wishes she could live on a deserted island, "away from the hatred of this world and live happily with the three dogs so they can run freely," said Deidre.