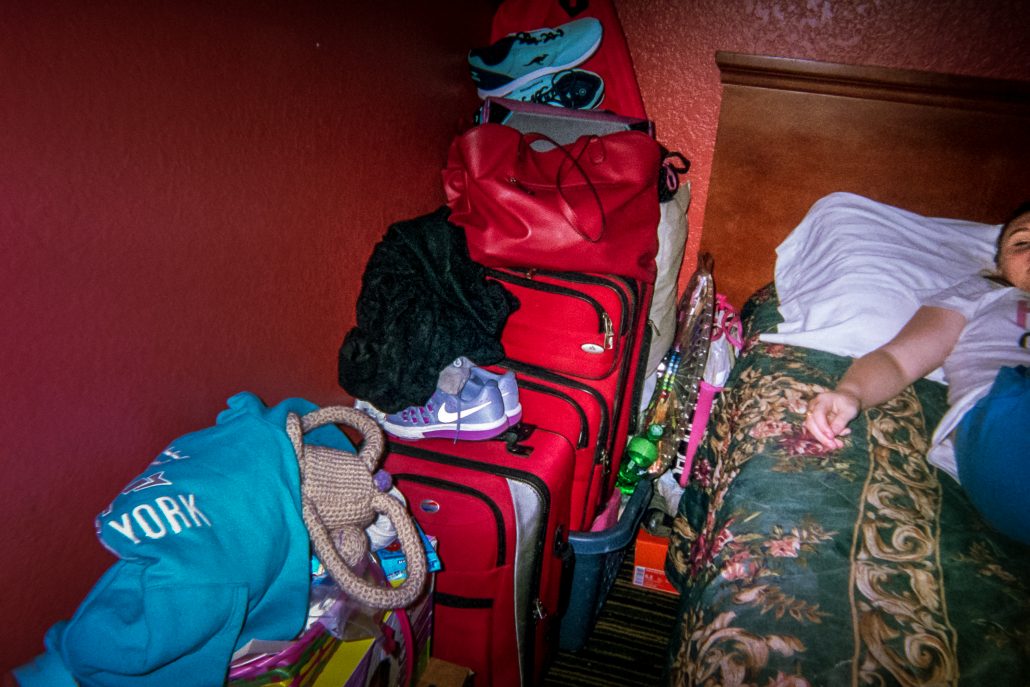 Traveling Exhibit Photograph #4 – Sharon
Sharon and her teenage daughter have learned how to eat without a heat source since motel became their home.
Sharon had never been homeless before. The bank took the home she and her daughter were renting around Christmas time last year. The landlord had not been paying the mortgage and by the time Sharon found out, she had just three days to move out with her eighth-grade daughter. She had nowhere to go.
Sharon and her 14-year-old daughter, Mattie, have been staying in a small hotel room for several months. Without any way to cook a meal, Mattie eats her spaghetti-o's cold, directly from the cup. With no kitchen table, the bed becomes not only a space to sleep, but a place to eat.
"We had to transition to eat differently without a stove or heat source to cook," said Sharon.
Her daughter washes the dishes in the bathtub because there is nowhere else to clean the dishes. Sharon participated in the project, In Plain Sight, in hopes that churches and other agencies could raise money to help more people who are in her same situation.
"Just because you're homeless doesn't mean that you didn't pay your bills, or make bad choices with drugs and alcohol," said Sharon.
Sharon had a stroke that caused her to lose part of her eyesight. She also has a knee that needs to be replaced. The small amount of disability she receives from Social Security Income is not enough to take care of her bills and support her daughter.  Her income barely pays for the hotel room.  One might think that a hotel would be more expensive than an apartment.  However, utilities and rent deposits make securing an apartment barriers too large for a homeless family to overcome.
"There's not enough money to get what we need," said Sharon.
Sharon dreams of having a car and a comfortable house where her daughter can grow up the way she deserves.