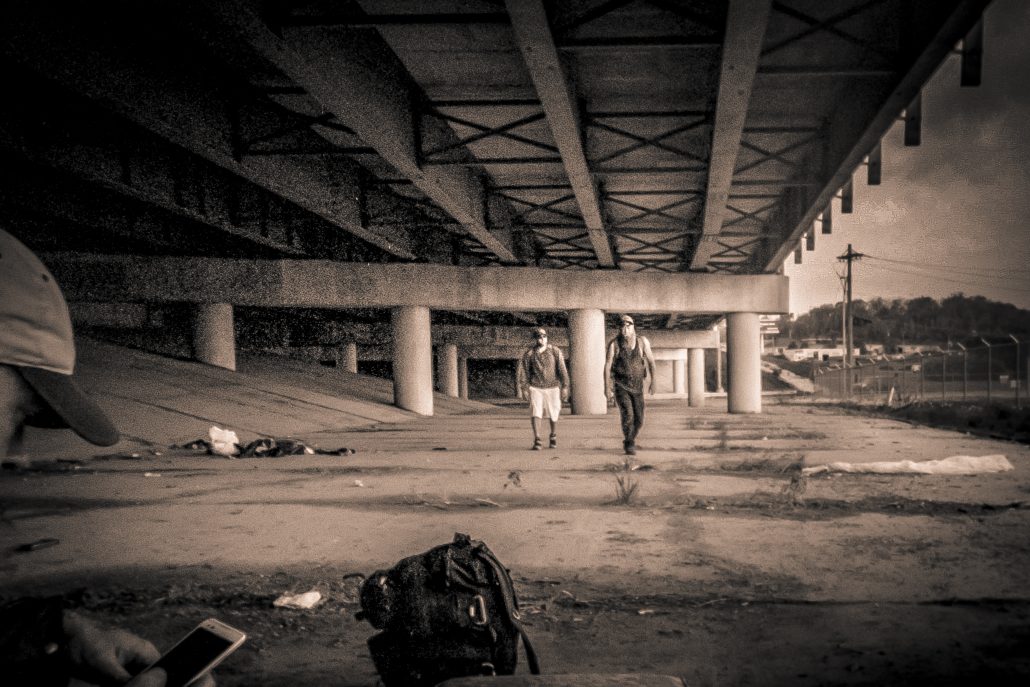 Traveling Exhibit Photograph #6 – Sonnet
Keep your faith no matter how hard it gets.
Sonnet has lived on the street for the last three years. Most recently she took shelter in a tent popped up under a bridge in St. Charles County.
"I wish the general public understood that it could be you. One bad choice can change your life," said Sonnet. "Just acknowledge the fact that we are human."
Sonnet took photos of her friends which she considers family. "Family isn't always blood," said Sonnet.  She also took photos of her living space—under the bridge—and the places she travels for food and showers. Her bright orange tent tucked into the corner of the bridge shows the reality of her only shelter. Taking a shower is not a simple task, but requires Sonnet to travel to a park restroom or truck stop to clean up.
Her favorite photos, however, are of her friends sleeping. Sleep is a brief respite for those living on the streets.  "It's the most peaceful time—for a short time," said Sonnet. "It's a break from reality; especially when you are sober—that's why a lot of people turn to drugs and alcohol."
"Employers should take a chance on us- a lot of us are really talented, there are welders and carpenters, people with skills who just need someone to give them a chance."
Sonnet shared some tips for those assisting the homeless. "Don't put soap in the same bag as food. And, 90 percent of homeless people don't have teeth, so don't put granola bars in the baggies," said Sonnet.
Sonnet dreams of having someone to catch her when she falls.  "Keep your faith no matter how hard it gets," she said.  Sonnet hopes to one day be able to see her kids again and have a relationship with them. "You have to believe in something."